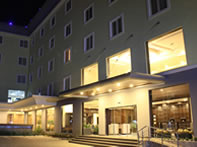 The Penthouse is fantastic. Designed for Presidential, and VIP delegates only, this suite has two lounges. A small private lounge for the VIP security staff, and a much larger one with dining table, and a kitchen all in one.
The Penthouse has two large rooms interconnected by the big lounge and also with an inter-connecting door. The Suite has a floor to ceiling bullet proof glass window that over looks the city. Guests to the Penthouse may access the roof anytime via a private rooftop door, that opens out from the back of the suite. the view is breath taking, and may be used for a romantic candle light dinner.
The Penthouse guest are provided with fresh towels, linen, daily housekeeping, a private butler (on request), and minibar. guests may also enjoy the LED TV located in each room of the Penthouse, while sitting on the brand new furnishing.